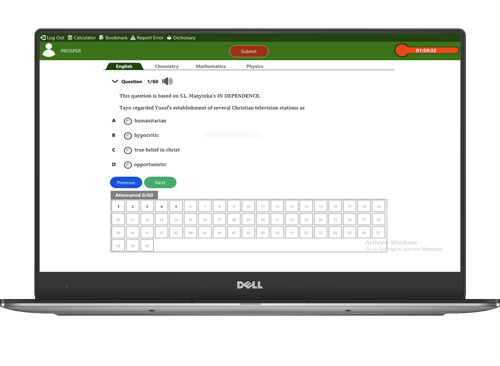 Score high in your JAMB exam with the JAMB CBT Software for UTME Candidates. For any student preparing for the JAMB UTME, we will say this JAMB CBT Software is a must-have.
The software is completely offline and comes with over 18,800  questions you can practice right away.
The Computer-based testing (CBT) software is just like that of JAMB Software with an easy-to-use user interface. Loaded with 24 SUBJECTS that you can practice without the internet. You are guaranteed Getting Higher Score with this package.
Why use this software?
No Subscription Fee – once activated, forever activated for all subjects!
Contains 18,800+ Questions Offline– practise authentic UTME past and model questions from 24 subjects with detailed explanations.
Summary of 16 JAMB prescribed literature textbooks – study literature textbooks and practice over 1000 likely questions.
Does Not Expire – continues to function as long as your device stays alive!
Practice By Topics – gain mastery of any topic by practising questions from any topic of interest.
Built-In Calculator – use the built-in calculator to crunch numbers without leaving the exam interface.
Dictionary – get the definition of over 92,000 words offline.
Practice one or more subjects at once – you can practice all four subjects at a time.
Rich Result Analysis – get a detailed analysis of how you perform on any exam.
Voice (Text-To-Speech) – you can interestingly listen to questions and explanation.
Educational Games – have fun while learning with our fascinating games.
Bookmarks – bookmark any question that you wish to view later.
School Finder – using the School Finder is the easiest way to know the JAMB requirement for any course in Nigeria.
Decide Everything – easily change the number of questions, exam year, exam time, exam mode and username.
Offline Chatbot – chat with Clara to find answers to most requests using our custom-built Chatbot technology with amazing artificial intelligence.
How the Our CBT Software work
The CBT SOFTWARE automatically generates simulated and randomized JAMB CBT test questions based on past JAMB/UTME questions.
The CBT SOFTWARE automatically set the time for the user, mark and score the simulated examination. It also grades the user and displays a performance report. Answers to the test questions, explanations to the answers and other features have been included for a complete learning experience.
JAMB CBT Software for UTME Candidates free download
Although the software is free to download, the software activation code/license is worth NGN2,000
Get a license code from here: https://www.myschoolgist.com/buy-now/
DOWNLOAOD JAMB CBT Software FROM HERE